OUR PRICING

Third Coast Music's lesson fees are simple: $25 per SESSION for 6 sessions. The sessions usually last an hour, but can take longer until you "get it". You are charged for only that session. The Houston-area average is $65-$70 per HOUR, and you will be charged by the HOUR.
Third Coast Music's rate is VERY low by any standard. Any proceeds from the song sheets help offset some of our lesson expense, so we can keep our prices low to you.
PLEASE VISIT THE 'PAYMENT & PRICING POLICY' PAGE FOR MORE INFO!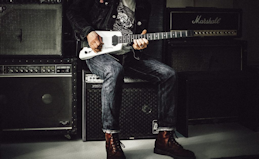 LIVE ONLINE GUITAR LESSONS

Some of the doctors treating PTSD at the VA who also happen to play guitar got hold of some of the song sheets we produce. That opened a dialog with us about the therapeutic benefit of the structured organization, learning concepts and routines involved in music, in particular guitar, to veterans with PTSD and what it could do to help them.
Third Coast Music was approached to aid in this effort. From there and considering the Covid crisis, systems and methods had to be developed to offer the song sheets, guitars, and lessons all online not just to veterans, but expanding outward to YOU as well. Third Coast Music is committed to this purpose.
The lessons offered by Third Coast Music are for those who are beginners. In six lessons, you will be be taken through the basic structure of the guitar, how to hold the pick, tune the guitar, etc., major chords, minor chords, seventh chords, up through the final lesson where you will know (to your own amazement) how to play well in excess of 128 chords. From there, what you are able to play is only limited by your own imagination and creativity.
LIVE online lessons are presented on evening schedules via webcam utilizing computers and current internet meeting technology to conduct the lessons.
WE WILL WORK TO ACCOMMODATE YOU!